Hello readers, and welcome to another educational post from my vehicles blog. A lot of people don't realize that buying a car is a lot like buying a house in that the first time you do it there is a lot to do. You need to buy cleaning supplies, some tools and of course safety gear and that is just the recommended minimum. The costs for all the items can pile up, which is why I always looked for a used version whenever possible. My favourite site for this is http://www.for-sale.ie/, which has tons of used tools and general goods for sale. I got most of my car supplies on there, which meant that I could buy more. Consider these items to keep in your vehicle at all times.
First Aid Kit
The most important thing for any vehicle is the first aid kit. You never know when the unexpected will happen and you end up in an accident waiting an hour for the emergency services. It is also a good idea to keep a small first aid kit in the glove box, so you can deal with any small injuries that happen while driving, like paper cuts or coffee burns. Take a look at the used first aid boxes on http://www.for-sale.ie/first-aid-box and pick the one that best fits your budget, room, and experience with first aid. As I said in my new drivers post however, make sure the driver is not the one performing the first aid (at least while driving!)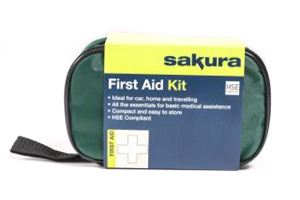 Multitool
Even if you have a full tool kit in the boot of your car, a multitool on your hip or in the glove box will always be appreciated. I personally have a leatherman, I found a used leatherman for sale on www.for-sale.ie/leatherman-wave and managed to save over $100 on the price and I still got the lifetime warranty. If you do manage to find one of these wonderful multi tools used, then make sure to go to the Leatherman website to transfer your warranty. Its also a good idea when you are looking for a multitool that you know how to use all the tools that are included, and if you don't know then I am sure you can find some information about it online.
Recovery Strap
The majority of drivers shouldn't need to carry a recovery strap as they will never have to use them, but it is something better to have and not need than to need and not have. Recovery straps are used to attach to two vehicles when one vehicle is stranded, either in a ditch or in the snow as I talked about in my winter tires post. If you are going to be driving a truck in rural areas however, you should always have a recovery strap with you as you will be the one needed to pull someone out.