Hi folks. Doug here again. I've been really busy of late running around like a mad man trying to sort everything out for the house renovations that I'm currently having done. I thought it would just be a case of handing a bunch of money to the builder and everything would be sorted out for me. Fat chance! I've had to project manage the whole thing myself. And along with my other commitments, it hasn't left me much space for any ME time, if you know what I mean. I've also been neglecting the blog, so apologies for that. But I promise to make this post a good one. I managed to find time this weekend to watch the Formula One on the TV. I absolutely love it. I've been a fan since I was kid back in the Senna, Prost, Mansell era. But even with all the added technology that some say has dumbed down the sport in recent years, I'm still a fan! I don't support any one particular driver as such, I just like to see the best man win on the day. I love the rivalry between the likes of Hamilton and Rosberg. But it is an interesting point to note that all Formula One drivers began their careers in kart racing. Known as Karts, Go Karts or Shifter Karts, racing karts is an affordable and accessible way for anybody of any background to try their hand at motorsport. So today I'm going to look at all the different ways that you can give it a go yourself, whatever your budget may be. You can find more info on kart racing at the following website: http://ekartingnews.com/
Indoor Day Kart Racing
You don't have to have any experience to try your hand at racing a kart at an indoor kart track. It's just a case of turning up with your friends or family, paying your money and giving it a go! The karts used are low powered, so no matter what your driving experience, the risk to your safety is minimal. Procedures are put in place and the safety of the customer is paramount, so don't feel that you will be taking the same risks that a professional racing driver does. This is purely for recreational purposes. Indoor racing tracks, on the whole, have less grip, allowing you to slide around corners. Although this slows you down in the long run, it is a whole bunch of fun, which is what this type of karting experience is all about. These types of low powered karts have no gears, either manual or automatic. You never build up enough speed to need to change up a gear. If you want to give go karting a try, this is where you should start out.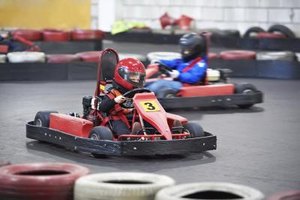 Outdoor Day Kart Racing
As above, but with an asphalt track, meaning that your kart will have more grip with the surface resulting in a faster experience. The outdoor tracks of this variety tend to be larger in size to accommodate the faster speeds, although the karts tend to be of the same standard. It is advisable to try your hand at an indoor track before venturing outdoors, but not mandatory. It's all down to your confidence as a driver really.
Competitive Kart Racing
This is where things start to get a bit more serious and expensive. This level of karting shouldn't be considered until you have cut your teeth for a number of months at a day kart track and shown that you have the aptitude to progress to the next level. It certainly isn't for everybody. The risk of accident and injury increases, and it takes a huge amount of commitment and self-sacrifice to make the investment involved at competing at this level worthwhile. Racing at this level is normally done on larger racing tracks that are also used for other forms of motorsport. This is to accommodate the higher speeds that karts of this variety can achieve, often upwards of 100mph, with engine sizes from 100cc up to 250cc. It is in this arena that the professional racing drivers of the future are born and it is not for the feint of heart. There is a great deal of fun and satisfaction to be had in this form of karting. But it is a long-term, serious commitment. If you are interested in taking up this level of kart racing, you'll obviously need a kart. To make things affordable and keep costs down it is advisable to buy a second hand used kart while you are just starting out. You can always upgrade at a later date.
Anyway folks, that is enough for today. Be sure to get out and give karting a go if you get chance. Until next time!